Wagyu Beef, Grown in a Lab
The funding for "alternative" meat companies tripled in 2020, with Impossible Foods and Memphis Meats leading the way.
This is from Codon, my weekly newsletter. Subscribe for free.
☀️ Good morning.
By forces seemingly antagonistic and destructive Nature accomplishes her beneficent designs — now a flood of fire, now a flood of ice, now a flood of water; and again in the fullness of time an outburst of organic life.

—John Muir
📰 Bioengineering in the News
Idea: Watermelons that grow on trees. Terrifying.
BIOTECH BATCH: Y Combinator has a new batch of startups. An article in Tech Crunch gives a nice overview for each of them. Tech Crunch. Link (A separate article takes a deeper dive on a specific startup in the batch; a company called Orbillion Bio is growing high-end meats — think wagyu, elk and lamb — in the lab.)
WEARABLE SENSORS: Jim Collins talks "living materials" that can diagnose diseases and sense microbes in an article for the National Institutes of Health's biweekly newsletter. NIH Record. Link
BIOTECH'S NEW DEAL: Biotechnology can help usher in a "Green New Deal," Isaac Larkin explained in a detailed report last year. Larkin highlights how synthetic biology is improving agriculture, the environment, and medicine, and what comes next. New Consensus. Link (Shorter summary here.)
THE SEQUENCE RACE: COVID variants can be sequenced and uploaded to a public repository in a single day. This rapid pace of "reading DNA" has helped scientists better understand SARS-CoV-2 variants. The New York Times. Link
MEAT MONEY: The funding for "alternative" meat companies tripled in 2020, with Impossible Foods and Memphis Meats leading the way. Labiotech.eu. Link
MICRO MISHAP: Remember uBiome, the feces-testing company? The U.S. Securities and Exchange Commission charged them with defrauding investors. The Scientist. Link
DESIGN WITH BIOLOGY: Natsai Audrey Chieza gave a beautiful TED Salon talk, discussing the intersection of nature, technology, and society, and touching on her own work with bio-designed materials. TED.com. Link
DOUDNA ESSAY: Jennifer Doudna penned an essay on COVID as a unifying force for the scientific enterprise. The Wall Street Journal. Link
KERNEL-Y CORN: Researchers used CRISPR to make corn with more kernels. Future Human (paywall). Link
FOOD TECH NEWSLETTER: I've been loving Daniel Ruben's weekly newsletter on food and biotechnology. He covers industry updates in vivid detail, and always paints a bigger picture about food, the planet, and technology. FoodTech Weekly. Link
Original artwork today by Davey Ho. This image depicts terraced farmland, with DNA woven into each step.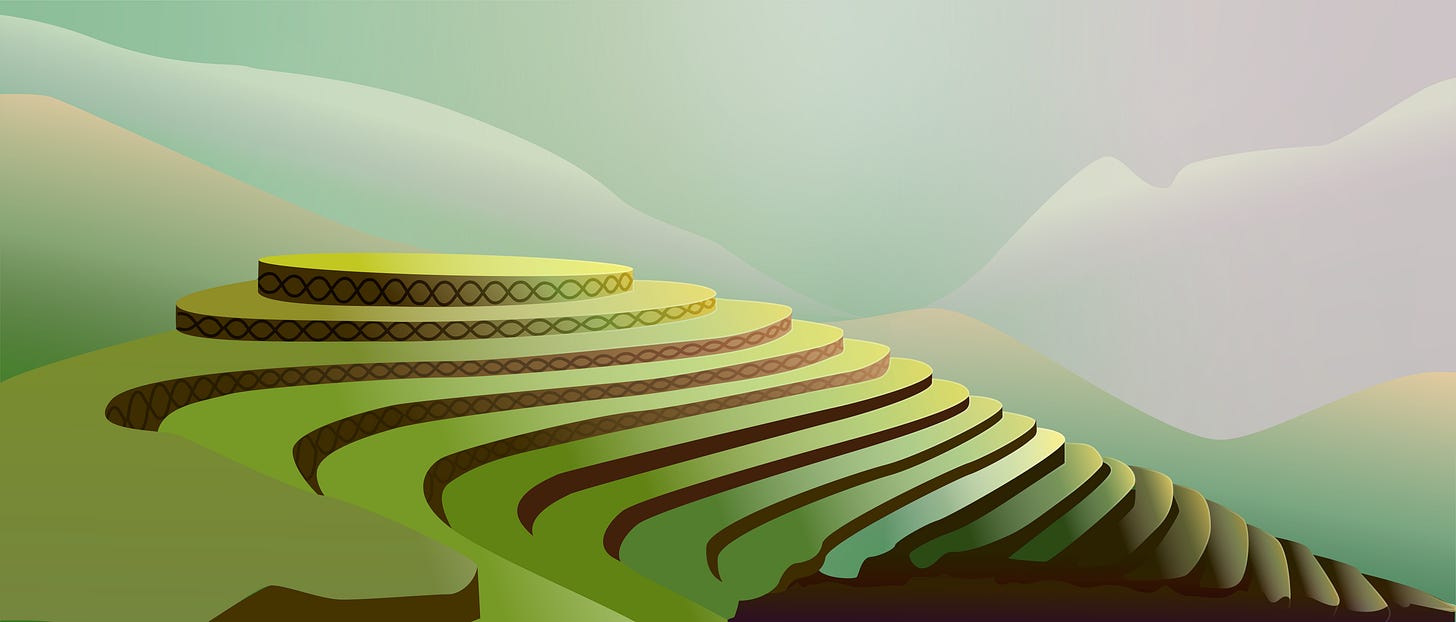 More Stories…
ENDANGERED ELEPHANTS: A new report on African elephants from the I.U.C.N. Red List says that savanna elephants are endangered. In 2008, the species was listed as "vulnerable." Forest elephants are also critically endangered, having "lost nearly nine-tenths of their number in a generation." The New York Times. Link (Also covered in New Scientist.)
PAPER MILLS: An in-depth investigation explores the rise of "paper mills" and how editors are trying to spot them. Nature. Link
HANDSTAND RABBITS: Rabbits with a mutation in the RORB gene run around in a handstand position, according to a new paper in PLOS Genetics. Zany. ScienceNews. Link (Also covered in Science.)
GENE TRANSFER: Whitefly insects likely acquired a gene from a plant, via a virus, millions of years ago. That gene protects the bugs from a plant-based toxin, according to a new study in Cell. It's the first known case of horizontal gene transfer between plants and animals. The Scientist. Link (Also covered in New Scientist, Nature, and The Atlantic.)
---
💳Industry Updates
AbSci (Vancouver, WA), a synthetic biology company specializing in drug discovery and custom cell lines, raised $125 million to advance their AI-assisted protein engineering platform. PR Newswire. Link
AlgiKnit (New York, NY), a "collection" of artists and scientists using algae to create "environmentally conscious materials," raised $2.1 million from investors that include Horizons Ventures and Fashion for Good. SynBioBeta. Link
Amfora (San Francisco, CA), a company using gene-editing to boost crop protein yields, raised $6 million in a Series B funding round. Globe Newswire. Link
Finch Therapeutics (Somerville, MA), a company developing microbiome therapeutics, went public last week. Their shares are at $16 right now. STAT. Link
Meatable (Delft, Netherlands), a cultured meat company, raised $47 million in a Series A funding round. The company can quickly grow meat from a single cell, according to The Spoon. Link
Provectus Algae (Queensland, Australia), a company using algae to produce chemicals with synthetic biology, appointed Tim Lu (co-founder of Senti Biosciences and professor at MIT) to its board of directors.
Synthace (London, UK), a company that developed a cloud-based platform for experiment automation, announced that their annual recurring revenue increased by 225% over the last year. Business Wire. Link
Twist Bioscience (San Francisco, CA) and Biotia (New York, NY) received emergency use clearance from the FDA for their SARS-CoV-2 next-generation sequencing assay. It can be used to analyze the entire viral sequence, helping to track mutants. Business Wire. Link
Wild Biotech (Rehovot, Israel) emerged from stealth mode. The company is using AI to identify new therapies from ~200 animal microbiomes. So far, the company's database includes "more than 1,200 gut bacteria, about 75% of which were previously unknown," according to an article in Fierce Biotech. Link
Zymergen (Emeryville, CA), the synthetic materials company, has filed for an initial public offering and are looking to raise $100 million according to a filing this week. They didn't disclose the number of shares, so their ask is likely just a placeholder. Reuters. Link